* Finalist Outstanding Innovation Women In Business Awards 2017 * Creative Business Finalist North Down Business Awards 2016 * Best New Business (Highly Commended) North Down Business Awards 2015 * NI4Kids Winner 2015 – Visitor Attraction of the Year (small category) * Regional Winner at The Big Start Up Loans Competition 2014 * Northern Ireland Enterprise Awards – Start Up Business of The Year –  Runner Up 2014
---
The Plant & Play Road Show
---
AVAILABLE TO BOOK NOW!!
All activities offered by Plant & Play will be completely mobilised from 24th June 2018! The premises will be taken over by a new owner but don't panic you can still have all the fantastic activities offered by Plant & Play at a location of your choice! With brand new themed party packages on offer, educational workshops and entertainment for community events there is still lots of fun session available! So if you want to visit the garden, have a party there or take part in our special workshops then make sure to book in before 24th June!!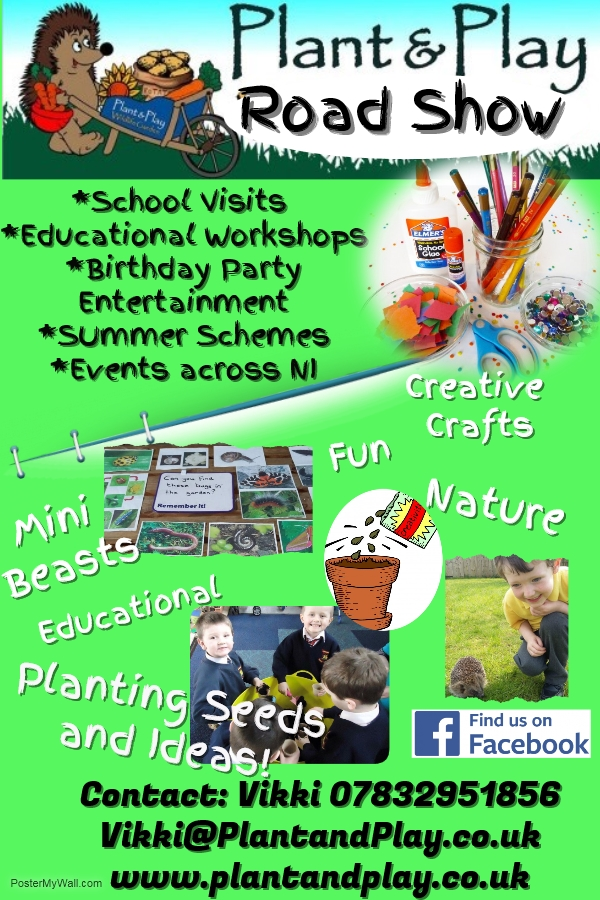 ---
The NEW MONTHLY NEWSLETTER – From Plant & Play Wildlife Garden! Including our topic of the month, special offers, event notices and more! Follow the link below to subscribe FREE OF CHARGE! One email, once a month.
Subscribe link – http://eepurl.com/cMNjZ9
---
  Want to know more?
Click the 'WHAT WE DO' button for more info on school trips, evening adult classes, birthday parties and much more!!!