* Finalist Outstanding Innovation Women In Business Awards 2017 * Creative Business Finalist North Down Business Awards 2016 * Best New Business (Highly Commended) North Down Business Awards 2015 * NI4Kids Winner 2015 – Visitor Attraction of the Year (small category) * Regional Winner at The Big Start Up Loans Competition 2014 * Northern Ireland Enterprise Awards – Start Up Business of The Year –  Runner Up 2014
---
Normal Admission
Prices
£6.50 per child (3+)  £5.00 per toddler (age 1-2)** – Adults Free (Max 2 per paying child)
*FREE Tea / Coffee Refills – Babies (under 1) FREE (apart from Toddler Tues / Wed / Thur  – see below for Toddler session prices)
**Toddler Tues / Thurs – prices £3.00 for 1st child, each additional child £1 (baby siblings free)
Special Events below: Click image to book!
---
FEBRUARY – MAY 2018 EVENTS – Click image to book!
1. Make a Fairy Garden Workshop 3rd April and 23rd June (10:30am- 12:30pm)

Event Details:
Tuesday 3rd April 10:30am-12:30pm – ONLY ONE FAMILY SPACE REMAINING!
Saturday 23rd June 10:30am-12:30pm
Let your imagination run wild in this fun family workshop! We are going to be making fairy gardens which you will sow with grass seeds and decorate! Then you can take them home and watch them grow! Each kit contains 1 x flower pot or bowl plus saucer, compost, grass seeds, craft materials to make gates / signs / glitter etc, 2 x battery lights, 5 x mini mushrooms, clothes line materials and pegs, artificial flowers, 1 x miniature fairy, 5 x mini ladybirds.
Additional fairy items, furniture and figures will be available to purchase on the day if you want to add more to your garden!
This is a 2 hour session consisting of a short demonstration and then construction of your own fairy garden. Cost per garden £22.00 (see discount below for multiple gardens)**. You are welcome to make 1 per family (max 2 adults, 2 kids) or 1 each, please specify at time of booking.
**Tickets for this event must be paid in full at the time of booking, spaces will not be held without payment. First garden is £22.00, any additional gardens on the booking are discounted at £20.00 each.
Booking link – http://plantandplay.co.uk/booking/
Please select the date and indicate how many fairy gardens you wish to make and the number of people attending.
3. Dream Catcher – Evening Craft Session (age 15+) – Adult Work Shop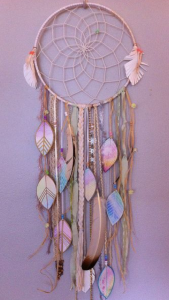 Come along and have a bit of relaxed, crafty fun with other adults at Plant & Play Wildlife Garden on Monday 9th April 2018! We are making beautiful dream catchers with Jeanette from MOXIEMakes! What is a dream catcher? Some say that good dreams pass through the hole in the center of the web while bad dreams are caught in the web. The good dreams will flow down the feathers to the person while the bad dreams dissolve in the day light.
These are lovely and fun to learn how to make! Our evening classes are always good fun! Bring a friend or your mum / dad and enjoy a lovely relaxed evening at Plant & Play!
Session time 7:00pm-9:0pm (includes a break for tea / coffee / soft drinks / nibbles)
Price only £12 per person and you take home what you make! A £5.00 deposit required when booking, this can be paid via an invoice online using debit card / credit card or Paypal. The balance due on arrival. Simply book online by clicking here.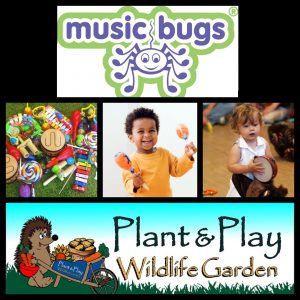 Plant & Play and the fantastic Music Bugs are joining forces to deliver an amazing 4 week music and play programme at Plant & Play Wildlife Garden in Bangor. Music Bugs will start each session entertaining with a variety of songs, rhymes and story. This includes musical instruments for the toddlers to play with and join in. This is followed by a snack and juice, provided by Plant & Play, and then a free play session and crafts.
Week 1 – Teddy Bear's Picnic Week 2 – Weather Week 3 – Creepy Crawlies Week 4 – Travelling
The 4 week course is suitable for ages 5 and under and available to book now for only £7.50 per week. This works out at total £30 for 4 x 1 hour and 30 mins of creative and educational play, snack, juice and a free play session after. Siblings booking will get a discount and can book for £25.00. Only 15 kids spaces remaining!
 NEW FOR 2018!!
All activities offered by Plant & Play will be completely mobilised from 24th June 2018! The premises will be taken over by a new owner but don't panic you can still have all the fantastic activities offered by Plant & Play at a location of your choice! With brand new themed party packages on offer, educational workshops and entertainment for community events there is still lots of fun session available! So if you want to visit the garden, have a party there or take part in our special workshops then make sure to book in before 24th June!!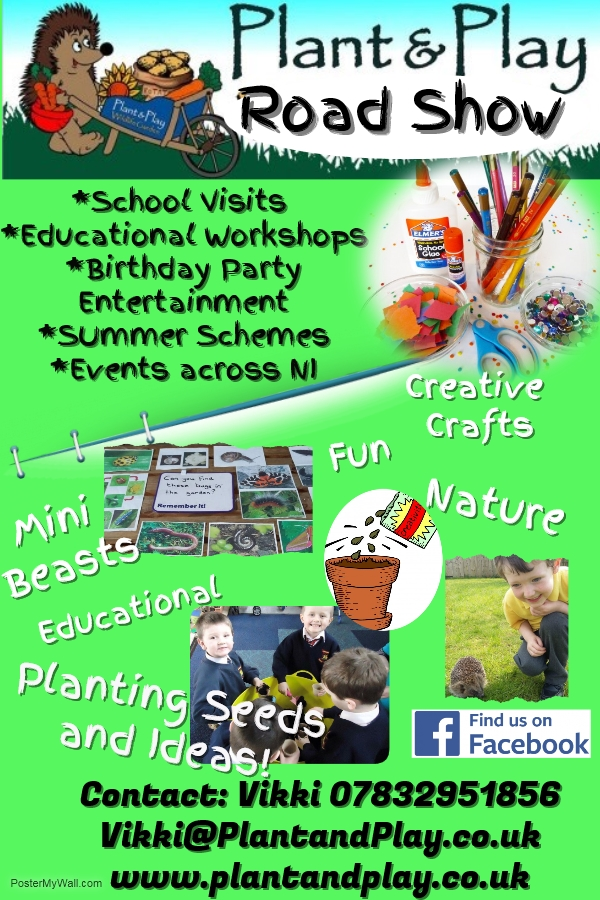 ---
The NEW MONTHLY NEWSLETTER – From Plant & Play Wildlife Garden! Including our topic of the month, special offers, event notices and more! Follow the link below to subscribe FREE OF CHARGE! One email, once a month.
Subscribe link – http://eepurl.com/cMNjZ9
---
  Want to know more?
Click the 'WHAT WE DO' button for more info on school trips, evening adult classes, birthday parties and much more!!!