At Plant & Play Wildlife Garden we are pleased to announce two after school club options:
1. The launch of our new after school workshops that can be delivered ON YOUR SCHOOL PREMISES. If you are a teacher / principle and would like more information or to arrange a meeting please contact me BY CLICKING HERE. There is a choice of Gardening Club or Science Club.
2. The afterschool sessions running at Plant & Play Wildlife Garden – 2 choices 'Gardening Club' and 'Science Club'.
The 4 week course only costs £28.00* per child for 4 x 60 min sessions and all materials / equipment is provided by Plant & Play Wildlife Garden.
Gardening Club (P1 to P7) – next available dates:
Time: 3:30pm – 4:30pm
Start Date: Thursday 3rd May (3rd May, 17th May, 24th May and  31st May) – click to book
This is a four week course is designed to improve and learn gardening skills, understand how to grow fruit and vegetables, recognise the creatures that live in our gardens and their role within the growing process (good or bad).
The workshops are divided down into 4 x 60 min sessions with gardening, planting, crafts and educational games in each session. Suitable for Primary 1- Primary 7 children. Each child will be presented with a certificate on complet…ion of the course.
** Week 1 – Fruit and Vegetable Identification, planting seeds, learn how to care for these at home and a craft session.
** Week 2 – Flower vs Weed Identification, weeds are free food, harmful flowers in the garden and how to identify them, planting seeds to take home and a craft session.
** Week 3 – Garden animals and insects, their role in the garden, wildlife gardening, hedgehog craft, meet Pixi Prickles the hedgehog and plant seeds to take home.
** Week 4 – Environmental Awareness – investigating litter and the effect on local wildlife. This week also includes an animal, insect, fruit and vegetable quiz, certificate presentation and recycling materials to make fairy / dinosaur gardens to take home.
SCIENCE CLUB (P1-P7) – next available dates:
Time: 3:30pm – 4:30pm
Start Date: TBC
Week 1 – Dinosaurs and Fossils – learn all about dinosaurs, make your own fossils to take home and paint, sort real fossils into matching groups, take a series of dinosaur challenges.
Week 2 – Weather – create your own tornado in a bottle, carry out a blue sky experiment, become a weather reporter, make crafts and learn about how different weather systems effect the garden.
Week 3 – Body Experiments – learn about how the body works through a series of experiments including memory tests, test your dominant side, learn about heart rates and make crafts.
Week 4 – The Magic of Fruit and Veg – make invisible ink, extract banana DNA, test air pressure using potatoes and use red cabbage as a pH indicator to test common household products for acid and alkaline. Also make a craft, certificate presentation, work folder and prize collection.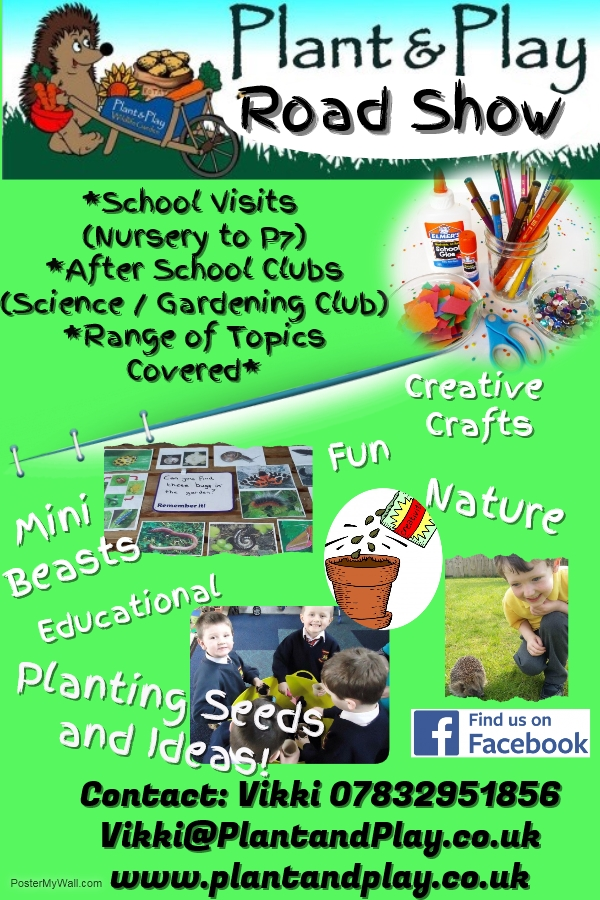 Email Vikki@PlantandPlay.co.uk to book your child a place or to enquire about school workshops either for your school or for your child to attend after school at Plant & Play Wildlife Garden.
Vikki Bustard
Owner – Plant & Play Wildlife Garden
Tel: 07832951856