PRIMARY SCHOOL VISTS – P1 – P7 / Youth Group Prices
*******Plant and Play can also deliver these educational sessions at YOUR SCHOOL! This has been very popular and many schools across Northern Ireland have taken part to date. Please contact Vikki on 07832951856 or email Vikki@PlantandPlay.co.uk for a quote.********
Price = £6.00 per child for groups of 20-40 children. Please call for smaller group prices or for a quote to book a visit to your school. For full group / school booking terms and conditions please click here.
STAFF = FREE
Session Times: 2 hours, 45 mins for school groups who wish to stay and have lunch on the premises after the activities. Youth group / evening visits are normally 2 hours.
**EVENING BOOKINGS FOR GROUPS (Guides, Brownies, Scouts etc) ALSO AVAILABLE***
Session Details:
A typical session includes:
bug quiz
fruit and vegetable educational games
tracking mini beasts
arts and crafts
planting seeds to take home
imaginative play and outdoor musical instruments
allocated time for break / snacks (to be provided by the school)
for P4-P7 science experiments and group survey work is available on request
Please contact Vikki on 07832951856 or Vikki@PlantandPlay.co.uk to discuss any questions you may have and to book your visit. If you want to visit the garden before booking then you are very welcome to do so.
WELLIES recommended – playing with soil and mud is part of the visit therefore we advise that the children wear old clothes and boots if raining.
Please bring lunch / break / snacks with you – we are currently unable to provide these on site. There are lots of seating (indoor and outdoor) areas to have lunch / break.
We have unisex disabled toilet facilities and changing facilities available.
Plant and Play can also deliver these educational sessions at YOUR SCHOOL!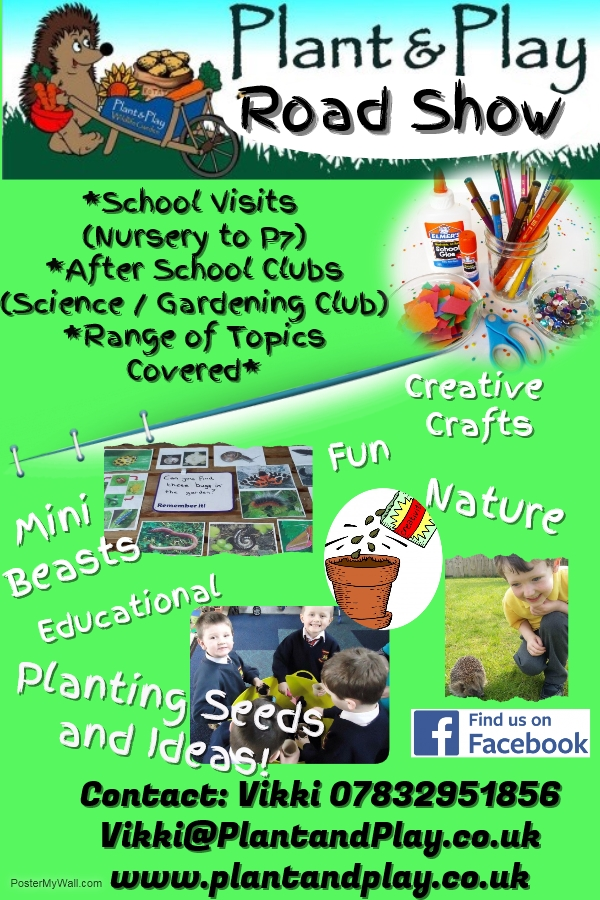 A massive THANK YOU to Londonderry Primary School (Newtownards) and St.Mary's Primary School (Portaferry) for sharing all the fabulous photos of the children when they came to visit the garden!